About G&M Builders, Inc.
~ Making Homes Beautiful is our Passion ~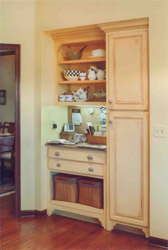 We are a family owned business that was established in 1985. Our founder, Wayne Maller, had a Dream and Vision to provide beautiful, Custom Built Homes for wonderful families. For many years, that is exactly what he did.
Over the years the company changed and evolved ~ now specializing in custom finishing as well as beautiful, custom remodels. Bryant Szudarski joined the company in 1995 and they worked together ~ side-by-side as a wonderful team until 2006 when we lost our founder in a tragic automobile accident.
Bryant has kept his Dream alive and is the new face of G&M Builders, Inc. As we move into the future, we are truly thankful for each and every one of our wonderful clients over the years, who allow us to come into their Homes (and their lives), to "stir things up" for a while ,with the end result always being a beautifully revitalized home with improved functionality to meet the needs of a changing family.
We treat each client like they are family, and provide craftsmanship and quality that is unsurpassed. No job is too big or too small for G&M Builders, Inc. We simply want everyone of our clients to live in a Home that they love, and that suits their every need. We can do whatever is necessary to make this happen.
---
Call
630-546-8558
or
contact us online
for all your home remodeling needs.
Serving Oswego, St. Charles, Geneva, Batavia, Elburn and Sugar Grove, Illinois.